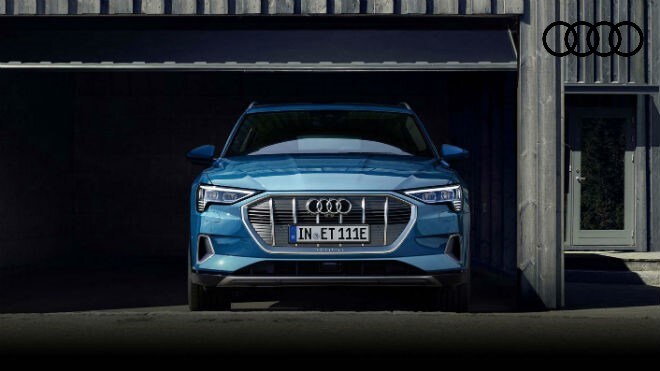 Discover the Audi e-Tron: The New Face of Electric Vehicles
The all-electric Audi e-Tron delivers an easy-charging, high-performing, luxurious ride. Audi Richfield wants you to meet this dynamic SUV and we're here for Richfield down the road.
Beautiful Design, Beautiful Vehicle
With its sleek styling and powerful engine, the Audi e-Tron will make you rethink electric vehicles. This luxurious, mid-size SUV dispels any preconceived notions of short-driving ranges and tiny, cramped cabins. Its elegant, streamlined aerodynamic lines accented with LED taillights and Singleframe® grille makes one beautiful vehicle. Audi's engineering also makes it very easy to charge at home.
Go Green, go Luxury
The Audi e-Tron makes no apologies for being electric and once you settle into its cushy cabin, you'll understand why. The roomy interior that seats up to five adults says luxury, not granola backpacker. This is your opportunity to get comfortable with remote climate control and seats covered in premium leather and finished with elegant stitching. The special, thick soundproofing makes the ride as quiet and reverent as a sitting in a church.
When you want the best
It's not every day you can be on the cutting edge of new technology. The Audi e-Tron has the selection and understanding of the Audi brand to guide you into the car that you want. We can't wait for the arrival of this innovative car and welcome the changes it will make in engineering and driving. Remember, Audi Richfield isn't just a dealership in town, we've serviced our neighbors for years and can only think of Richfield as our home.
New Vehicle, New Ideas
The Audi e-Tron delivers luxury and comfort without sacrificing performance and acceleration. The two electric engines of the Audi e-Tron work in tandem to deliver extra power and a longer driving range of 250 miles. By design, Audi keeps this vehicle low to the ground, which really boosts the torque from the two motors. The standard iconic Quattro four-wheel drive makes this SUV one tough cookie.
When Audi is the Best Choice
Going electric is the way of the world. Going Audi is the best way to do it. At Audi Richfield, we specialize in vehicles that deliver the performance and luxury you deserve. The Audi e-Tron is the SUV that will surprise and delight you. Smooth performance, fast acceleration and easy to charge are standard features. We stand behind every vehicle we sell and provide the parts and service you need to keep your Audi on the road. We're proud to provide so much to Richfield's vibrant community.
Hours
Monday

9:00 AM - 8:00 PM

Tuesday

9:00 AM - 8:00 PM

Wednesday

9:00 AM - 8:00 PM

Thursday

9:00 AM - 8:00 PM

Friday

9:00 AM - 6:00 PM

Saturday

9:00 AM - 5:00 PM

Sunday

Closed
Make an Inquiry
* Indicates a required field