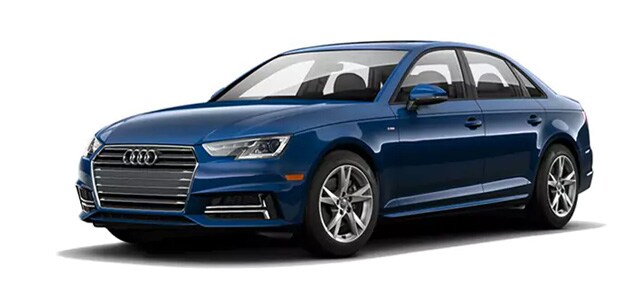 Audi's motto has long been "vorsprung durch technik," which translates into English as "advancement through technology." While all of Audi's vehicles contain many advanced features, perhaps none of them embody this motto as well as the Audi A4. From its exterior styling through to the interior features, the A4 is full of technological advancements that set it apart from many other vehicles.
Audi's Best-Ever Coefficient of Drag
A car overview rarely starts with the vehicle's coefficient of drag, but the Audi A4's coefficient shows just how detailed the sedan's engineering was. The 2017 and 2018 Audi A4s have a 0.23 coefficient of drag. That might not mean much to non-engineers, but it's just 0.01 off of the industry-best coefficient and it's the lowest coefficient Audi has achieved on any vehicle.
Engineers managed to drop the A4's coefficient of drag so low by making minor tweaks, like lowering the side mirrors slightly and making the undercarriage smoother. This level of attention to detail was carried throughout the entire design of the Audi A4, and its specs and features show the fruits of the engineers' hard work.
Four-Cylinders that Deliver V6 Power and Great Mileage
The 2017 and 2018 Audi A4s are available with two different engines.
The first is a 2.0 TFSI four-cylinder that delivers the power of a V6, thanks largely to advancements made by Audi's engineers. This engine puts out 252 horsepower and 273 pound-feet of torque, which will get the sedan up to 60 miles per hour in just 5.7 seconds. All the while, the engine still gets a combined 27 miles per gallon, which is much better than most V6s.
The second engine is a 2.0 TFSI Ultra four-cylinder that sacrifices some power in order to improve fuel economy. This version offers 190 horsepower and 2346 pound-feet of torque, which is still plenty for most drivers. The Ultra engine gets 27 miles per gallon in the city and 37 on the highway.
Industry-Leading Audi Quattro All-Wheel Drive
The Audi A4 is, naturally, available with Quattro all-wheel drive. Quattro isn't just any all-wheel drive system. It was the first one ever installed on passenger cars, and it's been leading the industry in all-wheel drive technology for 35 years. Today, the system features valuable enhancements, like a variable torque split, that help deliver precisely the right power to each tire at every moment.
Loaded with Technological Features Inside
Of course, no car can claim to be technologically advanced unless it has lots of high-tech features inside the cabin for drivers and passengers to use. In this area, the Audi A4 certainly doesn't fall short. It's loaded with features like:
Audi's Virtual Cockpit instrument cluster
inductive phone charging
30-hue ambient lighting
Android Audi and Apple CarPlay
Audi pre sense basic and pre sense city
Audi Homelink
many more features and driving aids
Moreover, these are included standard on all 2018 models. The higher Premium Plus and Prestige trim levels include even more features.
See the Audi A4 in Person
To see the Audi A4 in person, come visit Audi Richfield at 2401 East 77th Street in Richfield. Audi Richfield is a brand new Audi dealership that serves St. Louis Park, Stillwater and other nearby areas. At the dealership, you'll see lots of new and certified pre-owned Audis, including many Audi A4s, as well as an extensive service department. Make the short drive, and see in person just how advanced the A4 is. You'll likely be more than a little impressed with the technological advancement inside, out and under the hood.