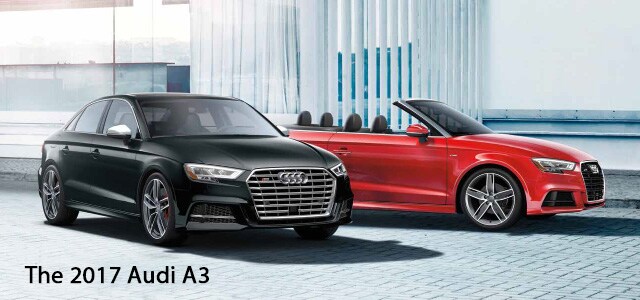 For Minneapolis-St. Paul area drivers eager to break into the luxury car market, there are few better choices than the 2017 Audi A3. This fascinating vehicle offers an exciting number of features and vehicle amenities at an attractively affordable price. This is luxury meets athletic performance, and it is available today at Audi Richfield. If your interest isn't peaked yet, just consider the following key aspects we love about the 2017 Audi A3:
Reasons to Love (and Purchase) a New 2017 Audi A3
Luxurious Interior
If you love vehicles that mesh beauty and comfort, this new A3 is a top pick for you. This new Audi vehicle features a sizable cabin that is engineered with quality materials for seamless fit and finish. Drivers will enjoy a dashboard that is based on user intuitiveness and paired with a center console that is equally attractive and easy to use.


Two Attractive Body Styles
Audi A3 buyers will find two attractive body styles to choose from: a four-door compact sedan with an aggressive front end, smooth lines, and sporty roof line and a two-door convertible with even greater styling and a power-folding fabric roof that looks great in both positions. Most auto manufacturers aren't known for producing top-tier looking entry cars, but Audi certainly broke out of the crowd with this Audi release. If you are looking for a modern vehicle for bustling city roads, this is it.


Quick, Powerful Engine
While new car buyers have two body styles to choose from with the 2017 Audi A3, there is only one available engine. However, it is quite the enviable engine. This 2.0-liter four-cylinder engine features a turbocharger and produces 186 horsepower and 221 pound-feet of torque. For those drivers needing a bit more oomph in their vehicle, upgrade to the available all-wheel drive transmission option for a boosted 220 horsepower and 258 pound-feet of torque. In a car like the Audi A3, this translates to a quick, responsive vehicle that is quick to accelerate from a stop, such as when driving along the highway.


Safe & Secure
Driving may be an everyday activity, but we often forget how dangerous it can be. Distracted drivers, inclement weather, and poorly maintained roads all await even the most careful Minneapolis-St. Paul driver. Whether you live downtown or in a suburb like Apple Valley or Chanhassen, you want a vehicle that you can trust to safely navigate roads in all types of conditions. The 2017 Audi A3 has more than enough to please safety-conscious drivers. Here, excellent safety features like traction control, safety control, antilock brakes, and full airbag set come standard. There are also optional safety tech features like blind spot monitoring and lane departure warning that go further to improve the vehicle's safety.
Test Drive a 2017 Audi A3 at Richfield
Of course, we could talk about this beautiful entry-level car all day long, but the only way to really appreciate what the A3 has to offer is to test drive it yourself. At Audi Richfield, we have a variety of new 2016 and 2017 Audi vehicles in addition to certified pre-owned A3s of previous years. Our sales team looks forward to meeting our fellow neighbors in Bloomington, Apple Valley, Minnetonka, and Victoria. Contact our Audi Richfield sales and finance team today to learn more about our outstanding dealership and to schedule a test drive.
Or, if your Audi A3 is in need of service, the skilled and experienced technicians at Audi Richfield are here to take care of your automotive service needs. Talk to us about scheduling a service visit.