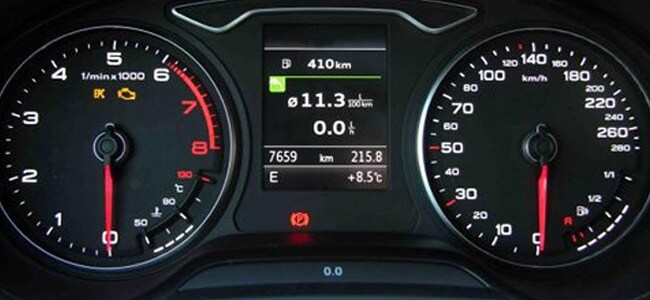 All automakers include at least some warning lights on their vehicles' dashes, but few have as many service and maintenance lights as Audi does. Here's a guide to Audi's service and maintenance lights, and what you should do when one comes on.
A Color-Coded System
Audi's system of dashboard lights is color-coded to help drivers distinguish between different lights' levels of urgency. There are four main colors that Audi uses:
Red indicates an issue that needs to be addressed immediately
Orange indicates an issue that is less pressing but still important
Blue provides drivers with information about a feature that's active
Green provides drivers with information about a feature that's active
Additionally, a flashing light (of any color) signifies an important issue that requires immediate attention.
This color system is used across the different types of lights. The same types of lights may be different colors depending on the urgency of an issue. In some cases, even the same light may waffle between two colors.
Indicator Lights
Indicator lights show drivers what features are active or engaged. These lights inform drivers about what's going on as they drive.
These features can be categorized into two groups: those that are activated in the normal course of driving (e.g. cruise control and turn signals) and those that are activated when driving conditions are potentially unsafe (e.g. electronic stability control and traction control).
Lights related to features that are used in normal driving situations typically turn green when their features are active, and off or orange when the features are inactive.
Lights related to features that engage automatically when driving conditions deteriorate usually turn orange or flash when the feature activates. These lights are orange because the driving conditions require attention.
Service and Maintenance Lights
Service and maintenance lights tell drivers if there's an issue with one of their vehicle's systems. These lights are usually orange or red, with their color indicating how pressing a problem is.
Some service and maintenance lights that may turn red include the:
parking brake light
low battery charge light
brake warning light
airbag system light
engine oil pressure light
cooling system fault light
These lights become red because a failure with any of these systems could be catastrophic. A braking system that fails could lead to an accident, an airbag system that fails could cause people to suffer severe injuries in an accident, and an engine oil pressure failure could ruin an engine. Therefore, these problems need to be addressed immediately.
Service lights that may become yellow include the:
electronic power control light
anti-lock brakes light
electronic stability program light (if it stays on continuously)
dynamic steering light
When these systems fail, an Audi doesn't function properly yet it's still drive-able. It should be brought in for Audi service soon so that the issue can be repaired but the problem isn't catastrophic.
Come to Audi Richfield for Audi Service
If any maintenance or service lights come on in your Audi, bring your vehicle to Audi Richfield for service. The dealership doesn't only have lots of certified pre-owned and new Audi vehicles, but also has the leading Audi service department in Minneapolis-St. Paul.
Located at 1401 77th St. East in Richfield, the service center is easy to get to from Stillwater or Apple Valley. It has 30 bays, state-of-the-art technology and highly trained Audi technicians. It's also open 6 days a week. No other service center offers more convenience or is more qualified to take care of your Audi vehicle.