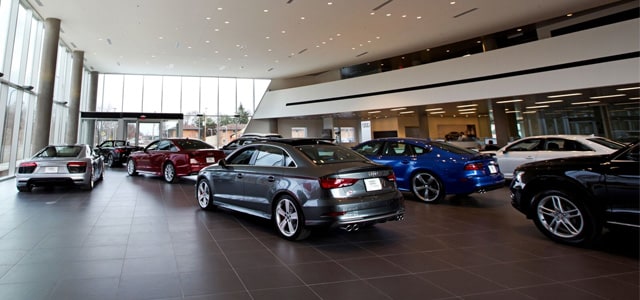 Purchasing a vehicle from a dealer is the beginning of a long relationship, which is why it's important to consider which dealer you're buying a car from. As you compare the car dealers in Minneapolis, here are some things to look for in the dealer you decide to do business with.
Choose an Officially Affiliated Car Dealer
All of the car dealers in Minneapolis can be separated into two categories based on their relationship with the manufacturers of the vehicles they sell. Some car dealers are officially affiliated with one or more automakers while others have no formal relationship with an automaker.
There are a couple of reasons to choose a car dealer that has an official affiliation with an automaker.
First, an affiliation with an automaker shows that the dealership provides a high level of service. An automaker won't affiliate themselves with a dealership that the automaker hears lots of complaints about.
Second, the team members of an affiliated dealership will have an intimate knowledge of the automaker's vehicles. Team members often receive advanced training on the automaker's cars, and they work with these vehicles every day.
Look for a Great Selection of Vehicles
Among the affiliated car dealers in Minneapolis, look for a dealer that has an excellent selection of vehicles. You'll be able to find the vehicle that's perfect for you more easily if there's a wide selection to choose from.
The dealership you go to should have cars, crossovers, SUVs and any other type of vehicle you're interested in. Additionally, they ought to carry all of the following:
Make Sure There's a Service Department
Make sure the car dealership's service department is large and well-staffed with knowledgeable technicians. Many drivers bring their cars back for maintenance, especially if they have a prepaid maintenance program. You want to leave the dealership confident that its service department will take good care of your vehicle after you buy it.
Pick a Dealership with a Convenient Location
The final step to choosing a car dealership to purchase from is picking a dealership that has a convenient location. Because buying a car is just the beginning of a relationship and you'll likely be coming back to the service center to have maintenance done, you'll want to make sure the dealership is easy for you to get to. It should be close to your home, place of work or a major highway that makes the drive to the dealership short.
Come Visit Audi Richfield
If you aren't sure what car dealer in Minneapolis-St. Paul meets all of these criteria, come to Audi Richfield. A brand-new dealership Audi Richfield:
is officially affiliated with Audi
has two showrooms full of new, certified pre-owned and pre-owned vehicles
has a 30-bay service department staffed by highly trained technicians
is conveniently located just off Interstate 494 and Highway 77
At 1401 77th Street East in Richfield, Audi Richfield is only minutes from Chanhassen, Eden Prairie and Apple Valley. The dealership opened earlier this year, making it perhaps the newest car dealer in Minneapolis. If you're in the market for a vehicle, come check out Audi Richfield before you make a purchase. The team here is confident that you'll like what you see, including both the vehicles and the dealership.