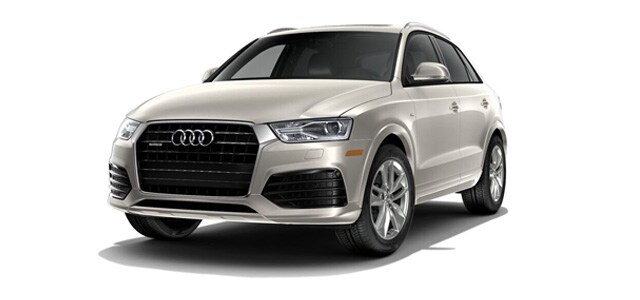 The Audi Q3 is a stylish and agile compact crossover that's fun to drive, and used models offer great value. If you're looking for a vehicle that's practically sized, performs well and comes with lots of features, there's a good chance you'll settle on an Audi Q3. Here's what to consider once you've decided that this is the vehicle for you.
Certified Pre-Owned or Pre-Owned
The first decision to make is whether you want a certified pre-owned Audi Q3 or a pre-owned one that's not certified by Audi. Since the Q3 has only been available in the U.S. since 2014, many of the models available are certified. There are non-certified ones for sale as well, though.
There are many reasons to opt for a certified pre-owned Q3. Audi's certification program includes:
a rigorous 300-plus point inspection that all vehicles must pass
the remainder of the new vehicle warranty
an additional 24 month/50,000 mile comprehensive transferable warranty
24-hour emergency roadside assistance
a vehicle history report
Additionally, all certified pre-owned Audi vehicles are less than 5 years old and have fewer than 60,000 miles.
Despite these benefits, some drivers may elect to purchase a non-certified pre-owned Q3. Usually, drivers who opt for a non-certified model are willing to take on the increased risk that comes with them in order to get an even lower purchase price.
Front-Wheel Drive or Quattro All-Wheel Drive
Next, you'll want to decide between front-wheel drive and all-wheel drive. In past years, the Audi Q3 came standard with front wheel drive but all-wheel drive was an optional feature. There are many pre-owned Q3s for sale with both drive systems.
In Minneapolis-St. Paul, lots of drivers opt for all-wheel drive. If you're just going to be driving the Q3 during the warmer months, front-wheel drive may meet your needs. If you plan on driving in the area's harsh winters, though, all-wheel drive can help keep you safe on slippery roads.
Should you opt for all-wheel drive, you won't get just any all-wheel drive system. Audi's Quattro all-wheel drive system was the first all-wheel drive system put on passenger cars, and it's been the industry leader for the past 35 years.
Trim Levels and Packages
Once you've narrowed down the essentials, it's time to think about what features you want included on your Audi Q3.
Pre-owned Q3s come with a variety of features that are included in different combinations. What features a particular model has depends on its trim level and the packages that were added to it. The precise combinations vary slightly with model year.
To find a pre-owned Q3 that has the features you want, work with a salesperson who can help you compare all the ones that are currently available and meet your other criteria. You'll find that even Audi's basic trim includes many features, and some high-level Q3s that have packages added are truly loaded.
Color Options
While considering trim levels and packages, also think about color. The Q3 has been made in several colors over the past few years.
If color is more important than features, consider this before trim levels. If color isn't quite as important, use it as a tiebreaker if more than one Q3 has everything else you want.
Visit Audi Richfield
To make the search for a pre-owned Audi Q3 easy, come to Audi Richfield. The brand new dealership is at 1401 77th St. East in Richfield, which is easy to get to from Victoria and Edina. At Audi Richfield, you'll find a large service department and two enormous showrooms that have lots of new and used Audis, including many Q3s.