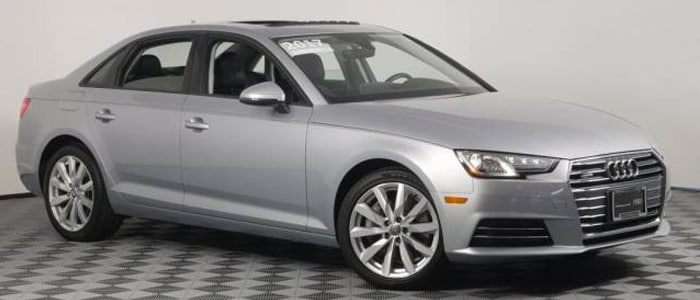 Audi is one of the "big three" German luxury automakers (the other two being BMW and Mercedes). But what makes Audi stand out even there is its relative affordability for a luxury vehicle that's flush with the latest and greatest in terms of safety features, interior materials, exterior styling, and technology assets. Yet, even the lowest cost new Audi model may be out of reach for many. Thankfully, there is a way to enjoy this luxury make without breaking the bank: the answer lies in buying a used Audi vehicle.
The following is a quick look at the pros and cons of buying a used Audi vehicle and why a pre-owned luxury vehicle should be kept high in your buying considerations:
Pros of Buying a Used Audi Vehicle
A nicer vehicle for a lower price
If you are considering a pre-owned Audi vehicle, then it's likely you're debating between buying a used Audi vehicle and a new non-luxury vehicle. Luxury makes like Audi are filled with finer materials like wooden trim and ergonomic details. They also feature better quality, more precision tuned engines that are built to give you more power and longer lifespans.


Lower depreciation
Vehicles are by their very nature depreciating assets. Whether you purchase a new luxury or new non-luxury vehicle, you can expect to take quite the hit in depreciation as soon as you drive off the lot. Depending on a variety of factors, this may be anything from a few hundred dollars to several thousand. By the end of your first year of new car ownership, Edmunds estimates the average midsize sedan sold for just under $28,000 will lose approximately $7,500 of its value. Buying a used Audi vehicle is a smart way to avoid this initial drop and enjoy a vehicle that holds its value better.


Great dealer benefits
If you buy a used Audi from an official dealer, such as Audi Richfield, then you also get access to a ton of perks. Perks like free loaner car access during extended service and potential extended warranties with Certified Pre-Owned Audis.
Cons of Buying a Used Audi Vehicle
Older technology
While luxury vehicles like Audi do feature forward-thinking technology for the year they're released, a 2004 used Audi won't have the same technology as a new 2017 Honda or Audi.


More maintenance
A used Audi will naturally have more miles and more wear and tear than a new vehicle. This means that it will likely need more expensive repairs sooner than a new vehicle of another make. However, you can mitigate these costs by choosing a Certified Pre-Owned Audi with its extended warranties. Additionally, sometimes a used vehicle can prove more reliable than a new one so long as service milestones and proper care and maintenance recommendations are followed. Before you buy any used vehicle, be sure to go over its CARFAX report and see how well the vehicle fared over its lifetime.


Little to no warranty
Again, this depends on where you go and what car you buy. A private seller of a used Audi vehicle can't offer you warranty transfers but certain used Audis sold by an Audi dealership can.
Visit Audi Richfield Today to See the Used Audi Vehicle Difference
Not all used vehicles are alike. Come see the quality difference of a used Audi by visiting us today at Audi Richfield. We are conveniently located just off 494 near the airport and just minutes away from Minneapolis-St. Paul neighborhoods like Eden Prairie, Apple Valley, Prior Lake, and St. Louis Park. Check us out today!