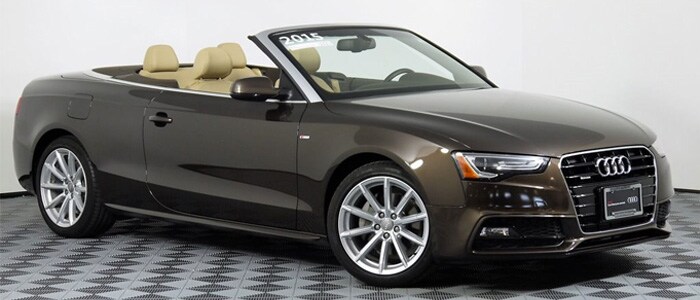 The good news is that Audi Richfield has plenty of used cars for you to test drive. You can shop for the perfect Audi in the 100,000 square ft. facility that is spread over three stories and totally state of the art. But with so many used Audis to choose from, how do you begin to find the perfect model for you? It all starts with the test drive. Here are some important tips to remember as you test drive used cars in Richfield.
1. Before you even get behind the wheel, be sure to give the vehicle a thorough visual inspection
You will want to make sure that all the tires have plenty of tread and are evenly and equally worn. Also, take a moment to squat down at the front corner of the car and examine the lines of the car. Any ripples are an indication that some body work has been done.
2. Press all the buttons and open all the doors
Be sure to test locks, window controls, dashboard computers and any other push button features. Next, take the time to open all the doors, including the trunk. You are looking for a smooth opening and closing motion that does create any sounds. Also, be on the lookout for any worn or rusted looking hinges.
3. Make sure to test the car at highway and expressway speeds
Once you actually get behind the wheel of used cars in Richfield, you can to make sure that you aren't just doing laps around the parking lot. You will want to reach speeds of above 60 miles per hour that you can check for any shaking and vibrations and get a feel for how the vehicle accelerates.
4. Pay attention to the steering
Any used cars in Richfield worth purchasing should also provide solid steering. To make sure that the vehicle isn't pulling to one side, wait till you are in a safe are and slow the car to about 20 miles per hour and let go of the wheel. If there is something wrong, the vehicle will clearly pull in one direction or the other.
5. Check to see how the transmission is operating
As you accelerate, do you notice the car hesitating? This could be a serious sign that something is wrong with the transmission. You are looking for smooth and effortless shifting so that you don't even notice when the car is shifting gears.
6. Test the brakes
You don't want to purchase a used car and then immediately have to invest money in maintenance related repairs. The braking should be smooth and silent. If your pedal feels squishy under your foot, then it may need a new set of pads or rotors before it is ready to be sold.
At Audi Richfield, all of our used vehicles go through an extensive inspection process so that you can rest assured that your pre-owned vehicle is in top working condition. In fact, we have over 30 service bays that work to service our customers' vehicles and inspect used vehicles. If you do experience a problem, our shuttle service and large fleet or loaner cars will make sure that you stay on the road and get to where you need to be.
To test drive used cars in Richfield, stop by Audi Richfield today. We are conveniently located off I-494 next to the airport and Mall of America. Our technicians and representatives will be happy to answer any questions you might have about purchasing a used vehicle.