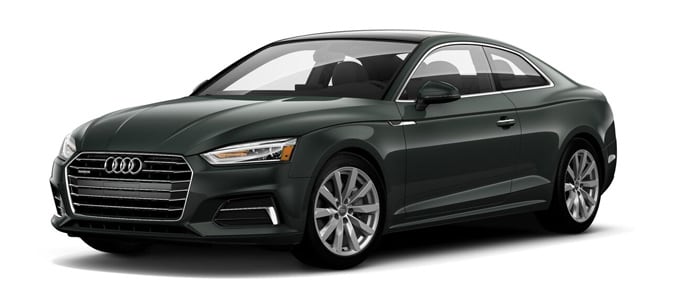 The 2018 Audi A5 Coupe has been fully redesigned for the coming year. With an all-new exterior, interior, suspension and powertrain, the coupe brings a modern approach to luxury, and gives drivers plenty of reason to consider this vehicle. Here are some of the best reasons to drive the completely redone 2018 Audi A5 2.0T Premium Plus Coupe.
A Modern Look Inside and Out
There's no mistaking the 2018 Audi A5 2.0T Premium Plus Coupe for Grandpa's "classic" car. (Unless you have a rocking grandpa, in which case we'd love to meet him.)
The redesigned 2018 A5 Coupe features a bold, progressive design that perfectly encapsulates Audi's forward-thinking mentality. The exterior boasts a Single frame grill, strong S Line profile, LED headlights and taillights, and dual exhaust outlets. On the inside, there's a multifunction steering wheel, panoramic sunroof, ambient LED lighting and leather seats.
Power Under the Hood
Audi overhauled and improved much of the 2018 A5 Coupe's under–hood features. The most impressive, though, is the 2.0-liter TFSI engine - a four-cylinder engine that outperforms many six-cylinder models.
Thanks to Audi's advanced turbocharged and direct injection technology, the 2018 A5 Coupe's engine delivers plenty of power even though it's just a four-cylinder. The cast-iron four-cylinder offers 252 horsepower and 273 pound-feet of torque, and it can reach up to 130 miles per hour (on a closed track, not a test drive). When necessary, the four-cylinder will bring the 2018 Audi A5 Coupe 2.0T Premium Plus Coupe up to 60 miles per hour in 5.7 seconds.
Because it's a four-cylinder, the 2018 A 5 Coupe's engine also delivers excellent gas mileage. EPA estimates place the engine's fuel economy at 24 miles per gallon in the city, 33 mpg on the highway and 27 mpg combined. These figures may not compare with electric vehicles, but then a battery won't be taking a coupe up to 60 miles per hour in under 60 seconds.
When placed alongside similarly powered cars, the 2018 A5 Coupe's engine more than holds its own; it sets the standard for all others.
Driver Assist Features to Help Behind the Wheel
There's still not a substitute for a car that's driven by an attentive driver, but Audi has incorporated the latest driver assist features into the 2018 Audi A5 2.0T Premium Plus Coupe. At this trim level, the car comes with:
Audi pre sense city
Rear view camera that has a 7-inch center control display
Audi pre sense rear (which includes rear cross traffic and vehicle exit assists)
Audi side assist
Full LED headlights
(Some, but not all of these features are included with the Premium trim level.)
Come See the 2018 Audi A5 2.0T Premium Plus Coupe
To see the 2018 Audi A5 2.0T Premium Plus Coupe, make the short drive from Apple Valley, Eden Prairie or Edina to Richfield. Just off Interstate 494, at 1401 77th St. East in Richfield, Audi Richfield has new showrooms that are full with new and certified pre-owned Audis, including many 2018 Audi A5 Coupes.
All of these new and certified Audi vehicles come with excellent warranties, and it's easy to get any maintenance or service needed done at Audi Richfield's new service center. Come and check out both the dealership and a 2018 A5 Premium Plus Coupe today, and you might just decide this is the vehicle for you.