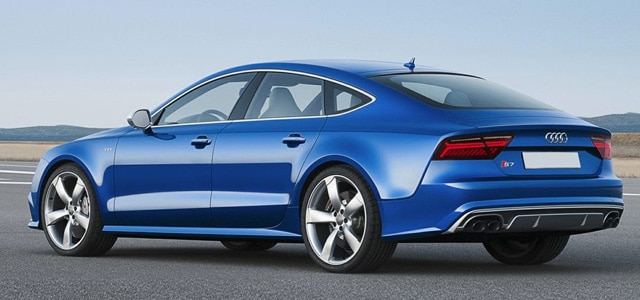 The 2017 Audi S7 is the type of sedan that drivers who love driving dream about. This 450 horsepower, all-wheel-drive luxury sedan outshines its competitors with world-class styling, stunning finishing, and a plethora of amenities. It is fast, it is furious, and it is waiting for you at our Richfield Audi dealership. The following is an in-depth look at the S7 version, how it compares the 2017 Audi S6, and why you should come in to take either for a test drive today:
Understanding the 2017 Audi S7 and its Sister Sedan the S6
The Big Interior & Exterior Difference Between the 2017 Audi S7 And S6
The most striking difference Minnesota drivers will notice between the 2017 Audi S7 and S6 lies in the exterior design. Where the S6 features a more traditional three-box sedan design with class standard trunk lid, the S7 version showcases a more sloping rear roofline with a hatchback liftgate.
This hatchback rear end design gives it a more stunning and modern exterior appearance and improves the vehicle's utility as large cargo can be easily accessed, particularly when you fold down the rear seats. However, the compromise is in tighter rear-passenger seating with only four seatbelts. So if you are looking for a sporty and luxurious Audi that has room in the back for family and friends, you might opt instead for the 2017 Audi S6 over the S7.
Things to Love in the 2017 Audi S7
Stellar Titanium Exhaust System
The high-performance Titanium exhaust system is something that the 2017 Audi S6 and S7 have in common. This beautiful system was created specifically for the driving enthusiast as it provides impressive weight systems and improves the vehicles' performance capabilities.


Clean & Sophisticated Interior
While the 2017 Audi S7 has plenty to love in the base model, the available upgrades are well worth considering. There's the ventilated, heated, and massaging front seats that will make just about any driver actually look forward to those long Minneapolis-St. Paul commutes during rush hour. There's also the Audi multimedia interface infotainment system that comes standard but can be upgraded with an outfit of a 13 Bose speaker premium audio system complete with SiriusXM radio.


Outstanding Safety Options
Equip the 2017 Audi S7 with the available driver-assistance package to enjoy all the best in 21st driving technology. While the S7 comes standard with a rear-view monitoring camera, upgrade to the full package to get an extra corner-view camera, lane-change assist, forward-collision warning and prevention system, adaptive cruise control, and high-beam assistance.
Test Drive the 2017 Audi S7 Today at Audi Richfield
At Audi Richfield, we believe both the 2017 Audi S6 and S7 but knowing which one is best for you will depend on your lifestyle and desired use of your next vehicle. When you visit us at our Richfield, MN location, our friendly and experienced sales team are always here to answer any questions you might have and to help steer you in the right direction. We want to see you drive home with a vehicle you love and keep loving.
For more information about the 2017 Audi S6, S7, or other model, contact us today either online or over the phone at (888) 670-7742. You can also just stop by our dealership located at 1401 77th St. East, Richfield, MN. We are conveniently located just minutes away from popular Minneapolis-St. Paul neighborhoods like St. Louis Park and Minnetonka. When you need to service your Audi, no one in the area can beat our experienced and professionally trained Audi technicians nor our facility's 30 service bays and larger loaner fleet.