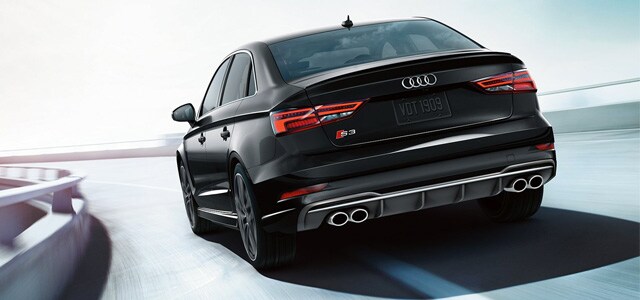 The Audi 2017 S3 got a refresh this year that doubles down on what so many Audi lovers already appreciated about the vehicle: better style, better performance, and better features. The Audi S3 essentially takes the build of the A3, Audi's entry-level sedan, and dials it up with a heavy dash of performance. This sedan is quicker, with better handling that makes for a hot vehicle pick for any Apple Valley or Eden Prairie driver looking for a fast and fun vehicle to take on the highways and curvy rural roads. The following is a more in-depth look at the outstanding qualities of the refreshed Audi 2017 S3:
Investigating the Audi 2017 S3: Improvements & Performance
Integrated Handling Under One Computer
The 2017 S3 is powered by a special turbocharged 2.0-liter four-cylinder engine that delivers a significant 292 horsepower that generates 280 pound per feet. Also standard is an enviable all-wheel-drive system paired with a six-speed dual-clutch automatic transmission. The S3 can accelerate from 0 to 60 miles per hour in an astounding 4.6 miles per hour, quicker than any car on the market in this price range. Even better, the swift nature of the S3 doesn't mean poor fuel efficiency. Quite the opposite in fact. The 2017 S3 gets an EPA-estimated fuel economy of 21 mpg in the city and 28 mpg on the highway.
For the Audi 2017 S3, Audi engineers switched up the sedan's electronics and combined the vehicle's all-wheel-drive electronic system with the model's stability control, traction control, ABS, etc. This means that the S3's ride, handling, and stability all originate from one central computer and occur simultaneously. What results is a vehicle that reacts more quickly and cohesively to driver and road input.
This alteration likewise gives drivers more control and power over their driving experience. In essence, the S3 is capable of taking just about any corner you come across. Drivers will enjoy better gripping tires and suspension that rolls comfortably over those pockmarked Minneapolis-St. Louis streets.
A Luxurious Interior Packed with Amenities
The Audi 2017 S3 may be an entry-level luxury sedan, but it's still a luxury sedan. That means Apple Valley, Eden Prairie, and other Minnesota owners of this model will have plenty to enjoy when they step inside this vehicle. Comfort begins with the front manual seats boasting good support and precision designed to make it easy to find just-the-right position for those long drives.
And then there's the technology. This year's multimedia screen has the unique ability of dropping down into the dashboard when not in use while the 12.3-inch Virtual Cockpit screen located in the sedan's instrument panel replicates its major functions. For example, the Virtual Cockpit includes the ability to display navigational and map data with brilliant clarity, an ideal option for those Apple Valley drivers needing accurate street-level maps when navigating downtown Minneapolis-St. Paul or for those city drivers going out to Eden Prairie for the first time. Plus, the availability of Android Auto and Apple CarPlay make smartphone integration for this and the multimedia panel incredibly easy and efficient.
Test Drive the Audi 2017 S3 Today at Audi Richfield
Interested in learning more about the 2017 S3? Or maybe you want to compare it to last year's S3 and this year's A3? At Audi Richfield, we have these and many other new and pre-owned Audis to choose from. Our dealership is located at 1401 77th St. East in Richfield, MN and conveniently just a short hop away Minneapolis-St. Paul neighborhoods like Eden Prairie and Apple Valley. Contact us online or by calling (888) 670-7742 to schedule a test-drive.