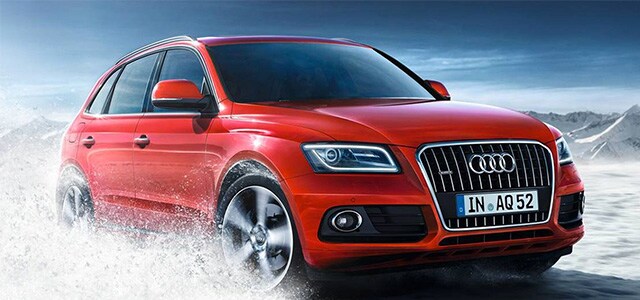 In the past, salt and snow would wreak havoc on vehicles, which meant that winterizing your vehicle was just another seasonal chore on your list. Advances in technology have made cars more durable and able to withstand harsh winter road conditions, but that doesn't mean you shouldn't still take steps to ensure that your vehicle is ready for frigid temperatures and piles of snow that are part of life in Minneapolis, St. Paul, Apple Valley and other surrounding areas. Following these Audi winterization tips can ensure that you don't get sidelined this winter.
1) Check your battery
As you might imagine, everything becomes a little more sluggish in the cold, including the chemicals that keep your battery running. Even a fully charged battery won't operate at full capacity once temperatures begin to drop below freezing. It doesn't help that cold weather also means that your engine puts more demands on your battery in order to do its jobs. The combination of factors could make it difficult to get your car started in the morning. Your best bet is to make sure that your battery is fully charged and free of any corrosion.
2) Check your tire pressure
Another simply Audi winterization tip is to check your tire pressure and make sure that they are inflated according to manufacturer recommendations. The cold air will cause your pressure to drop. In fact, a ten-degree drop in the weather will cause a 1 psi drop in your tire pressure. Not only will this affect your gas mileage, it will also mean that you aren't operating your vehicle as safely as possible.
3) Check your wiper blades and wiper fluid levels
Even worn wiper blades may be able to get your through a few light rain showers with decent visibility, but the same can't be said for the first snow of the year. The last thing you want is to be stuck on the road with subpar wipers that aren't able to keep up with the snow fall. Replacing your wiper blades is a simple maintenance job, and while you are at it, make sure that you have plenty of wiper fluid in the reservoir.
4) Get an oil change
The cold weather is going to affect how all fluids behave, including your engine oil. Cold temperatures will cause the oil to thicken up right when you need it to be running smoothly through your engine. Talk with your mechanic about using an oil with lower viscosity so that everything will circulate properly and your engine will start up right away.
5) Check your belts and hoses
It doesn't take an expert to visually inspect the main belts that help keep your engine running. Most of these are made from some combination of rubber and plastic, which will show clear signs of wear, including small cracks. If you see any signs of a potential problem, be sure to have those belts and hoses replaced by the experts at Audi Richfield.
6) Purchase emergency equipment
Make sure that you have blankets, flares, food and water in your trunk at all times. You can put together your own kit or simply purchase a pre-made kit that will help you get through an emergency situation.
Your best bet for Audi winterization is to visit our convenient location just off 494 and have our technicians make sure you are ready for a Minneapolis winter. We have 30 bays available to service your car and make sure that you don't get stuck on the side of the highway this winter.