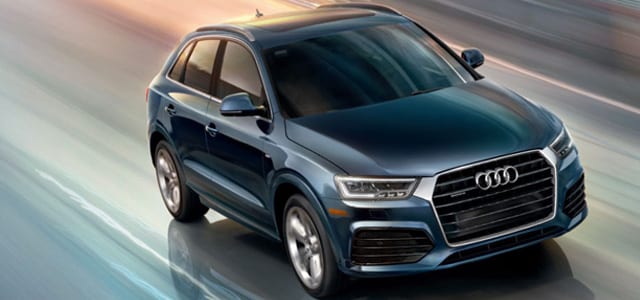 The Q lineup is Audi's line of crossover and sport utility vehicles. With four models, three trims and numerous available packages, this line has a crossover or SUV for any driver who needs extra power or space -- and would like to drive in style. Here's a look at the latest editions to the Audi Q lineup.
Seating Arrangements for Families (or Groups) of All Sizes
The newest Audi Q models are four different vehicles that offer a range of seating and cargo options:
The 2018 Audi Q3 is equipped with five seats and provides 16.7 / 50.3 cubic feet of cargo space
The 2018 Audi Q5 and SQ5 have five seats and provide 26.8 / 60.4 cu. ft. of cargo room
The 2018 Audi Q7 comes with seven seats and provides 14.8 / 37.5 / 71.6 cu. ft. of cargo room
(The amounts of cargo space are listed with the seats upright and folded down.)
For an agile crossover that'll fit a few friends and their gear, the Q3 is a clear contender. When it comes to providing lots of room while still getting around in style, the Q stands out from the crowd. If you need the best of both worlds, the Q5 and SQ5 provide well-crafted compromises that balance space with size.
Powerful Efficiency on All Models and Trims
As might be expected, the Audi Q lineup offers varying amounts of power and fuel efficiency depending on the size of a model and its engine.
For example, the 2018 Q3 has a 2.0-liter engine that provides 200 horsepower and 207 pound-feet of torque, and gets a combined 23 miles per gallon. In contrast, the 2018 Q7 is available with a 3.0-liter engine that delivers 333 horsepower and 325 pound-feet of torque. (The 3.0-liter engine's EPA fuel mileage estimates weren't yet available at the time of writing.)
All Audi Qs, however, maintain a high level of efficiency considering the power they produce because they all are equipped with TFSI engines. Audi's TFSI technology combines the benefits of forced induction with the advantages of gasoline direct injection to create supercharged engines that create a lot of power from a small amount of fuel.
(Audi first developed TFSI technology to help them on the Formula 1 circuit, where cars need to run as fast as possible and use as little fuel as possible.)
Quattro All-Wheel Drive is Always Available
Quattro all-wheel drive is, of course, available on all Audi Qs. The first all-wheel drive system that was installed on passenger vehicles, this remains the industry-leading all-wheel drive system decades after it was initially developed. It's naturally a popular option among drivers in the Minneapolis-St. Paul area.
Features and Style That Continually Impress
Finally, all Audi Q crossovers and SUVs have a host of features that add to the driving experience and sophisticated style that draws attention. The exact features vary from model to model and package to package, but each model offers plenty of features for drivers to choose from.
Check Out the Audi Q Lineup
If you're in the market for a powerful, efficient, safe and stylish crossover or SUV, come see the Audi Q lineup at Audi Richfield. Audi Richfield has a full selection of both new and certified pre-owned Audi Q vehicles (which all come with generous warranties), as well as a state-of-the-art service department. Make the short drive from Stillwater or Edina to 1401 77th St. East, Richfield and see for yourself why so many drivers who want a larger vehicle select an Audi Q model.