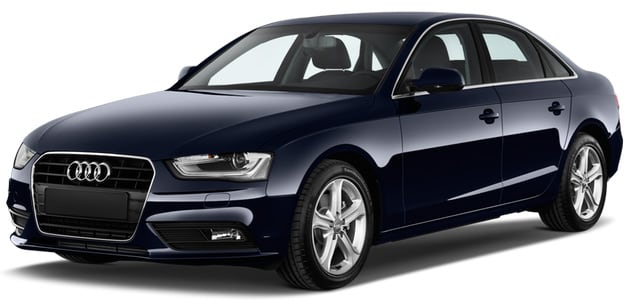 For the family seeking an affordable, stylish and comfortable everyday driver, the 2013 Audi A4 is an excellent choice. With seating for five, a stylish interior, responsive handling and solid fuel efficiency, the 2013 has all the makings of a great family car. It'll get everyone where they need to be while keeping them comfortable and safe - and without breaking the bank.
Stylish Seating for Five
The Audi A4 received a mid-cycle redesign in 2013 that largely focused on updating its interior. The cabin is constructed of the finest materials, including real leather, which give it a level of refinement other sedans lack. These materials are complemented by updated tech features, such as a redone MMI infotainment system equipped with new electronics.
Additionally, the 2013 A4 has plenty of room to seat five comfortably despite being a smaller family sedan. Thanks to some thoughtful design work, the cabin's room is closer to that of a mid–size sedan rather than a small one. Whether in the front or back, everyone in the A4 will have the room they need.
Responsive Handling for On-the-Road Safety
When it comes to driving, the 2013 Audi A4 excels. A pair of features, electric power steering and Quattro all-wheel drive, give drivers the behind-the-wheel experience they crave and the peace of mind they need when kids are in the back seat.
Part of the A4's 2013 mid-cycle update was the addition of an electric power steering system. This system greatly improves the A4's responsiveness, and it's largely because of this system that the 2013 Audi A4 is so much fun to drive.
Available Audi Quattro all-wheel drive only adds to the A4's handling capabilities. When equipped with Quattro all-wheel drive, the A4 does well in many driving conditions -- including snow and ice, which Minneapolis-St. Paul sees plenty of.
Solid Fuel Efficiency Without Sacrificing Power
Important for everyday driving, the 2013 Audi A4 offers a solid fuel efficiency without sacrificing power. Its 2.0-liter turbocharged engine delivers 211 horsepower and 258 pound-feet of torque, which is plenty for driving around town and is even enough to create a truly fun driving experience. At the same time, the A4 gets 20 miles per gallon in the city and 30 on the highway.
(This EPA fuel estimate is for the 2013 A4 when equipped with an automatic transmission, which makes managing kids in the backseat easier than a manual does. Going with the E85-compatible engine lowers highway fuel efficiency to 29 miles per gallon.)
Certified Pre-Owned Models Available
Best of all, the 2013 Audi A4 is still available through Audi's certified pre-owned program. This is the last model year that currently qualifies for Audi's certified pre-owned program. (All certified vehicles must be no more than 5 model years old.)
Of course, there are also non-certified 2013 A4s available. The certified ones, however, represent especially attractive bargains for drivers who want a reliable and affordable sedan their family will like. With a certified pre-owned Audi, drivers get:
peace of mind knowing the vehicle passed a 300-plus point inspection
the remainder of the new-vehicle limited warranty
a 24-month/50,000 mile comprehensive warranty after the new-vehicle warranty expires
24-hour roadside assistance
other benefits
See the 2013 Audi A4 at Audi Richfield
To see the 2013 Audi A4, make the short drive from Edina or Prior Lake to 6133 77th St. East in Richfield. At Audi Richfield, you'll find a large selection of new and certified pre-owned Audis - often including the 2013 Audi A4. Take the A4 for a test drive, and see if you don't think it'd be a great sedan for your family.