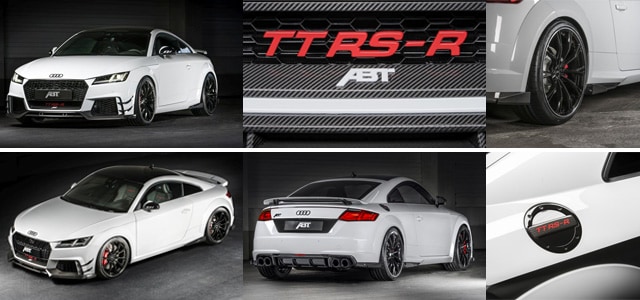 The ABT TT RS-R Roadster has the stuff legends are made of. The car has already left its mark in Audi's record books, which means there is an official account of it. That's a good thing, for this roadster may soon be remembered only in the mythos of Audi lore as one of the most powerful speedsters Audi ever produced. Before the ABT TT RS-R Roadster becomes a true legend there are only tales of, here's a look at what makes this roadster so special.
A Speedster That's Hard to Find and Harder to See
The ABT TT RS-R Roadster will become a legend largely because it's hard to find, and even harder to see if you do manage to find one.
There were just 50 ABT TT RS-R Roadsters produced, so the chances of coming across one is incredibly slim. Even considering the additional 50 coupe models that were made, you'd still have to hunt for a long time before you came across a one. With only 100 units spread throughout the world, the TT RS-R is among the rarest vehicles in the world.
Should you manage to find a TT RS-R, you had better have your camera in hand and not blink. The roadster is equipped with an optimized TT RS V8 engine that delivers 500 horsepower and 420 pound-feet of torque. That's 100 horsepower more than the Audi TT RS, and it makes the TT RS-R the most powerful Audi TT RS made to date.
With this amount of power, the TT RS-R can jump from 0 to 62 miles per hour in just 3.4 seconds. (Yes, the traditional test to 60 miles per hour is too easy for the RS-R. It's not your normal car.)
At 3.4 seconds, the TT RS-R can likely reach 62 miles per hour faster than you're able to focus your camera and take a picture. You had better hope the roadster is at a stand still when you come across it, and you sure better not blink.
A Roadster That'll Leave an Impression
If you do manage to catch a glimpse of the ABT TT RS-R Roadster, you won't mistake the car. With bold styling, it leaves an impression - and one you won't soon forget. Improving on the TT RS' already great styling, the R Roadster adds a number of bold carbon features:
a 20-inch "ABT SPORT GR" decal in glossy black
front blades and front flics
a front spoiler and front grille with "ABT" on it in red
side skirt add-ons that have side blades
a multi-part rear skirt add-on with "TT RS-R" in red
dual stainless steel exhaust pipes that match the other upgrades
On the interior, the seat panels and side dashboard panels also have a matching carbon coating.
Upgrade Your Driving Experience
The ABT TT RS-R Roadster is no longer available from Audi, but there are other powerful models available. Additionally, it may be possible to obtain ABT parts that can be used to convert another Audi TT into something similar to the RS-R Roadster.
To explore the ultimate in speed and style, come check out the certified pre-owned and new Audis at Audi Richfield. The dealership's located at 1401 77th St. East in Richfield, just minutes from Wayzata and Bloomington. At the dealership, you'll find a large service department and two showrooms of Audi vehicles -- some of which are among the most powerful speedsters currently on the road. Come by, and speak with the sales team about getting a new Audi or with the service team about upgrading an Audi TT you already own.