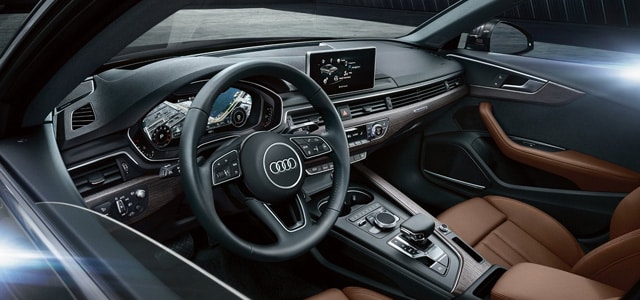 With a 2.0-liter turbocharged engine, seven-speed twin clutch and available Quattro all-wheel drive, the 2017 Audi A4 2.0T sedan has everything it needs under the hood (and chassis). It's not just the mechanics that make this sedan stand out, though. For, the 2017 Audi A4 2.0T sedan has a generously equipped cabin that's a pleasure to ride in.
Keeping Everyone Comfortable
The heart of the cabin is a host of features designed to keep everyone inside comfortable, for it's impossible to enjoy any automobile's ride if you aren't at ease.
There's leather seating throughout, and the front seats have eight-way power adjustments. Upgraded heated front seats (with driver memory) are available for those who'd like a little extra warmth during Bloomington, Woodbury and Minneapolis-St. Paul's cold winters. The heated seats aren't absolutely necessary, though, because the tri-zone automatic climate control ensures everyone's area is the perfect temperature.
For those who want the ultimate in seating comfort, heated seating, ventilated upholstery and four-way lumbar supports are all available for the front seats. (Four-way lumbar support comes standard for the driver.)
Showing Luxury in Every Corner
No matter where you look in the 2017 Audi A4 2.0T sedan's cabin, you'll see luxury. From the leather-wrapped gear shift between the front seats to the sunroof and sunshade overhead, the interior exudes class and sophistication. Ambient LED lighting, aluminum door sill inlays and a cooled glove box round out some of the highlights, although there are many more features that impress.
Playing Audiophile-Quality Music
Sometimes, however, class and sophistication aren't just about feeling and seeing. Hearing also can serve as a measure of luxury. In this area, the 2017 Audi A4 2.0T sedan once again lacks nothing.
The A4 2.0T comes standard with an Audi Concert sound system that boasts 10 speakers and more inputs than a driver can use in a single drive. Listen to music via AM or FM radio, a CD, a USB-connected device or a high-capacity SDXC card slot.
As good as the Audi Concert system is, true audiophiles will want to upgrade to the available Bang & Olufsen 3D sound system. This system uses all of the same inputs, so it's easy to play music from almost any medium. The outputs, however, are increased to 19 Bang & Olufsen speakers that perfectly relay every note in crystal-clear detail.
Making the Drive Easier
For the driver specifically, the 2017 Audi A4 2.0T sedan has a number of standard and available features that make driving the sedan as easy as it can be. The car comes standard with features like a 7-inch MMI touchscreen display, 5-inch LCD instrument panel, rearview camera and several driver-assist features. Through the packages and trims, drivers can add a heads-up display, larger MMI touchscreen display, front and rear parking sensors, and more.
Experience the 2017 Audi A4 2.0T Sedan's Ride
To truly appreciate the 2017 Audi A4 2.0T sedan's cabin, you have to experience the car's interior firsthand. Make the short drive from Wayzata or Woodbury to our new dealership at 1401 77th St. East in Richfield, and sit in one of the new or certified pre-owned A4 2.0Ts.
At Audi Richfield, we have a number of new and certified pre-owned Audis, including many A4 2.0Ts, ready for test driving. All of these vehicles come with generous warranties and are a pleasure to drive (or ride) in. Check them out, and take a look at our new service department, today. We think you'll like what you see, both at our new dealership and inside the cabin of the 2017 A4 2.0T.