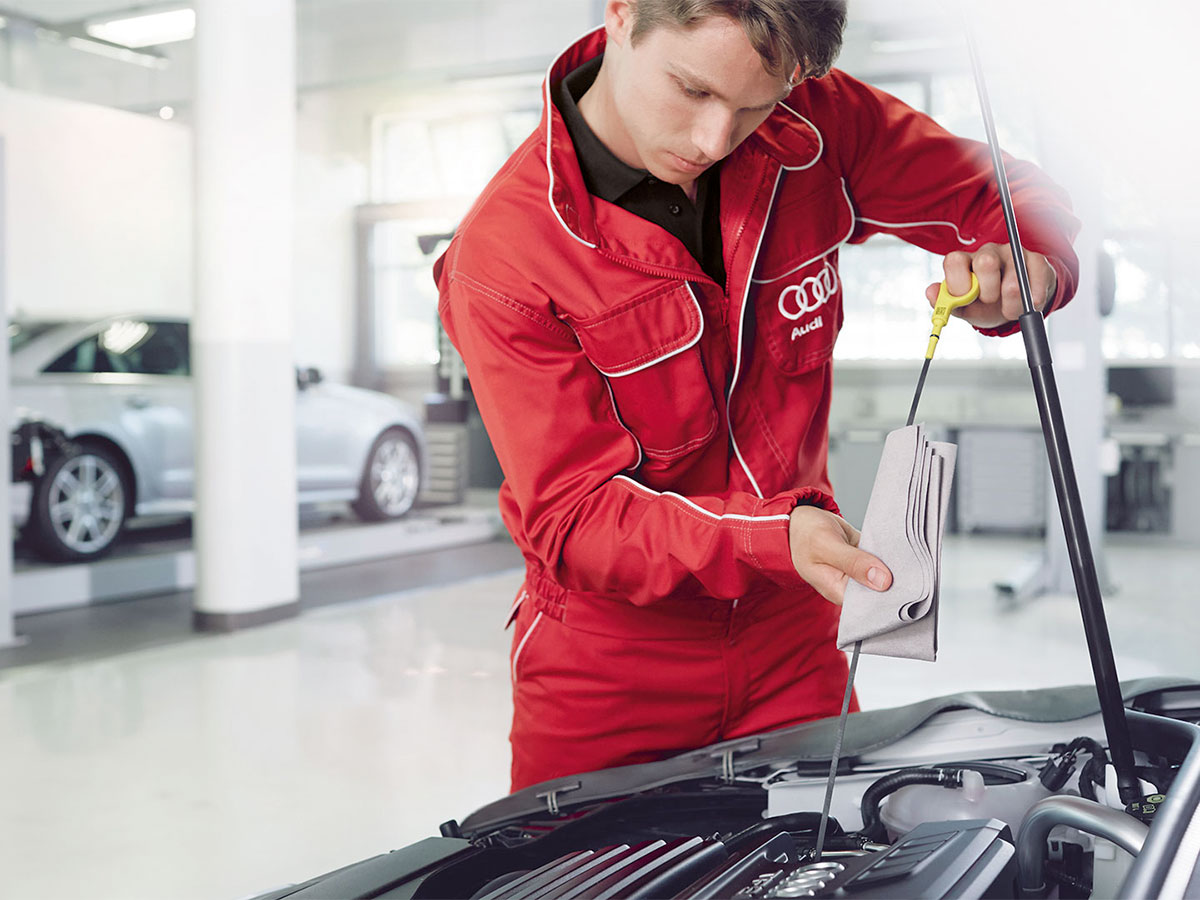 The Most Common Warning Signs Associated with Faulty Engine Oil:  
Check engine light
Oil change service light
Ticking or knocking engine sound
Dirtier oil that is darker than before
Black exhaust smoke
Smell oil in the cabin
Audi Engine Oil, Lubrication & Temperature Regulation
Every Audi car, crossover, or SUV with an internal combustion engine requires engine oil to keep the engine running within the desired temperature range. Without engine oil, an internal combustion engine would overheat and lock up within a few seconds of starting. Although there are many engine oil options available today, Full Synthetic Oil has become increasingly popular due to its advantages over synthetic blends and conventional engine oil alternatives. Keeping the engine oil fresh in your Audi is an inexpensive way to receive valuable engine-protecting results.  Audi Richfield is conveniently located in Hennepin County near Minneapolis, St. Paul, & Bloomington, MN.
Full Synthetic Engine Oil
Full Synthetic Oil has innovative detergents and additives that improve its performance by reducing thermal breakdown as the oil circulates through the engine contacting moving parts under intense heat and stress. Reducing thermal breakdown is merely a fancy phrase that explains how Full Synthetic Oil retains its viscosity while resisting sludge formation. However, even though Full Synthetic Oil lasts for an impressively long time, engineers have yet to figure out how to make engine oil last forever. When the oil inside your engine starts to break down, it is always best to have the oil & filter changed proactively before the oil's performance declines. If engine oil is left unattended, the ultimate consequence might be engine overheating. If you are due for a motor oil change, Audi Richfield invites you to the service department for a Full Synthetic Oil Change Service that restores optimal engine lubrication.
How often does Full Synthetic need Change Service?
Newer-model Audis have a computerized engine oil monitoring system that will tell you exactly when you should get the oil changed. If you have an older-model, another way of knowing when to schedule oil change service is by following the recommended maintenance interval in the owner's manual. We also suggest inspecting the engine oil monthly as a precaution to detect engine oil that might be breaking down prematurely due to various driving factors. If you have any of the warning signs of motor oil that is losing integrity, it will always be a wise decision to get the oil & filter changed soon before the oil can no longer keep the engine lubricated and running cool. Common warning signs you need a full synthetic oil change are listed above.
Service Hours
Monday

7am-5pm

Tuesday

7am-5pm

Wednesday

7am-5pm

Thursday

7am-5pm

Friday

7am-5pm

Saturday

8am-4pm

Sunday

Closed