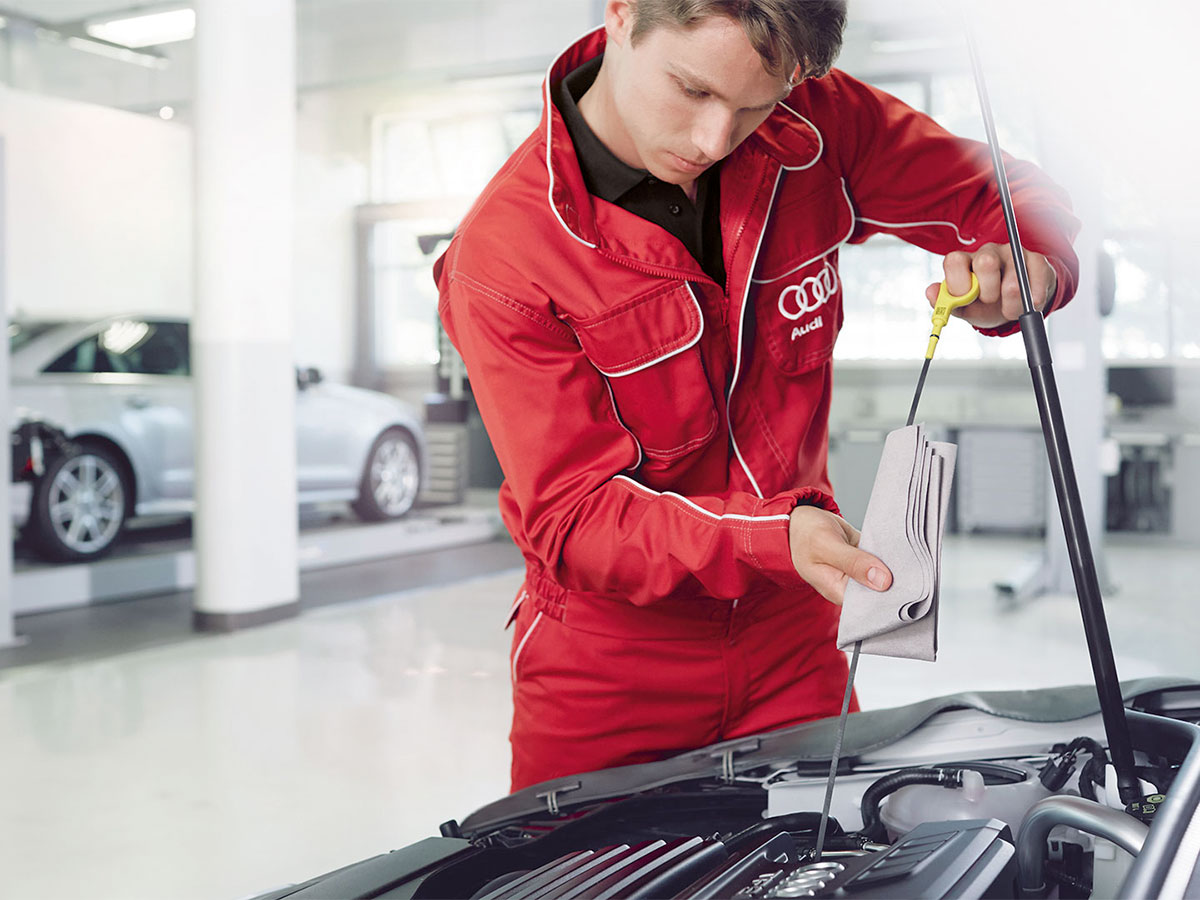 Audi Conventional Oil Change in Richfield, MN
One of the most common and required maintenance services for your Audi is the conventional oil change service. Over time, the oil that is used to maintain the temperature of your engine and keep it operational breaks down and fresh oil is required. At this time, an oil change service is necessary. During this service, one of our certified technicians will remove the old oil and the oil filter, replacing them both with new oil and a new filter to continue proper operation of the engine.
How Often Should I Change My Oil?
This service should be conducted every 3K to 5k miles in your Audi. During this time frame of these miles, the oil is running through the engine repeatedly maintaining temperature and capturing particles that could disrupt the system. Ensuring that this oil is replaced regularly ensures that the engine will continue to operate at its maximum performance and expand the life of your Audi. For the Audis that are not daily drivers and do not get lots of mileage annually, they need to have their oil changed every 3-6 months since the oil can evaporate and leave the engine to operate without the proper oil levels.

Regular Conventional Oil Changes from Professionals is Crucial
If you choose not to change your oil regularly within the recommended mileage, your engine will begin to circulate broken down oil through the engine. Once the oil is unable to capture the dirt and particles, they will begin to move through the engine and cause damage to the different cylinders. Also, the oil will not be able to maintain the temperature, causing the engine to overheat, which could cost much more damage that costs more than the conventional oil change service.
Why should I choose Audi Richfield?
The certified technicians at Audi Richfield have been taught how to properly care for your Audi and give it the treatment it deserves when it comes in for service. Located in Richfield MN, we proudly serve these Audi owners, as well as those in Minneapolis, St. Paul, and Bloomington, MN. When you choose Audi Richfield, you are bringing your Audi to a state-of-the-art facility that is equipped with leading tools and equipment to supply the best service.
When you receive your Audi back, you will find it washed and ready as a complimentary service. Enjoy our customer lounge, fully stocked with your favorite snacks and beverages to enjoy during the service. We also have workstations and free Wi-Fi for those looking to get some work done during the wait. Contact our service department today to schedule your next Audi service.


Service/Tire Center Amenities:
Work stations
TV & WiFi
Coffee & Beverages
Snacks
Complimentary Loaner Vehicles
Shuttle Rides
Complimentary Car Wash
Certified Technicians
Body Shop Onsite
Schedule Service
Service Hours
Monday

7am-7pm

Tuesday

7am-7pm

Wednesday

7am-7pm

Thursday

7am-7pm

Friday

7am-5pm

Saturday

Closed

Sunday

Closed